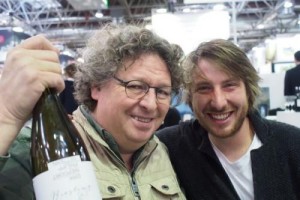 At ProWein I caught up with Dirk Niepoort, and took a look at his Douro wines, and also a new project from the Mosel that he's involved with: a collaboration with Philipp Kettern (from Weingut Lothar Kettern) It's always great to taste with Dirk.
Both of the Niepoort white Redomas are made the same way, but the Reserva is a barrel selection. This is done blind, but it's always the same vineyards that end up making the Reserva: it's the vineyards that make the difference.
Niepoort Redoma Branco 2015 Douro, Portugal (cask sample)
Very fresh with subtle lanolin edge to the taut citrus and pear fruit. Nice depth here with some richness, although it stays fresh. 92/100
Niepoort Redoma Reserve Branco 2014 Douro, Portugal
Linear, fresh and very precise with some waxy notes as well as attractive citrus and pear fruit. Very pure, with a lovely linear personality and good acidity. Complex. 94/100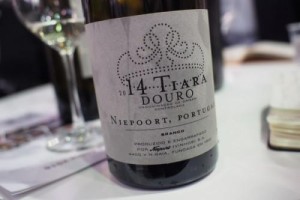 Niepoort Tiara 2014 Douro, Portugal
This is mostly from a very old, high vineyard, with the key variety being Codega. It's fermented in big old wood for 12 months and then goes to stainless steel on solids for 4 months. This is really linear, pure, fresh and expressive with a lightness to it, and complex notes of was and herbs intertwined with the citrus fruits. So fresh. 94/100
Niepoort Redoma Tinto 2014 Douro, Portugal
2014 was a rain-affected vintage in the Douro, but Dirk picks early and he picked the grapes for this before the rains. It is 60% stems, too, and has a lovely freshness. Fresh and bright with lovely sweet cherries and plums, as well as nice acidity. There are hints of tar and spice. Tight, focused, fresh and delicious, this isn't a big wine, but it's beautifully balanced. 94/100
Niepoort Charme 2014 Douro, Portugal
A short maceration with whole clusters in lagares is the way that Charme is made, and the key decision is when to get the wine off skins/stems. The 2014 is lovely. Very fine, fresh and expressive with bright raspberries and cherries, this has nice spiciness and real finesse. So delicate, with good tannins. Fresh and detailed. 95/100
Dirk has been collaborating with a number of very interesting winegrowers, and this was my first look at this Riesling collaboration with Philipp Kettern. The wines are just lovely.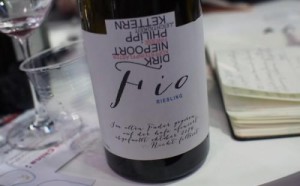 Philipp Kettern and Dirk Niepoort Fio Riesling 2012 Mosel, Germany
This is made from one fuder (a large barrel) and spent two years here without any sulphur dioxide additions. It was bottled October 2014. This dry Riesling shows amazing finesse and texture, with wax, herbs, honey, melons and pears. There are fresh lemony notes but also richer textural elements. It's mineral and dry with great concentration and depth, showing amazing purity and finesse. Stunning. 95/100
Philipp Kettern and Dirk Niepoort Fio Riesling 2014 Mosel, Germany
This is still in barrel. Amazing, lively, vivid citrus fruits with some pear, melon and cabbage character. Complex, fine and linear with high yet harmonious acidity. Apples and herbs, too. So linear and fine. 93-95/100
Philipp Kettern and Dirk Niepoort 'Cabinett' Riesling 2012 Mosel, Germany
8% alcohol, off-dry style. Linear and pure with slightly sweet linear fruit. Has finesse and purity. Lively with great acidity, this is lovely stuff. 93/100
Find these wines with wine-searcher.com
March 17th, 2016 | Tags: douro, germany, mosel, portugal | Category: douro, germany, portugal
1 comment to Latest Douro wines from Dirk Niepoort, and his brilliant Mosel collaboration with Kettern